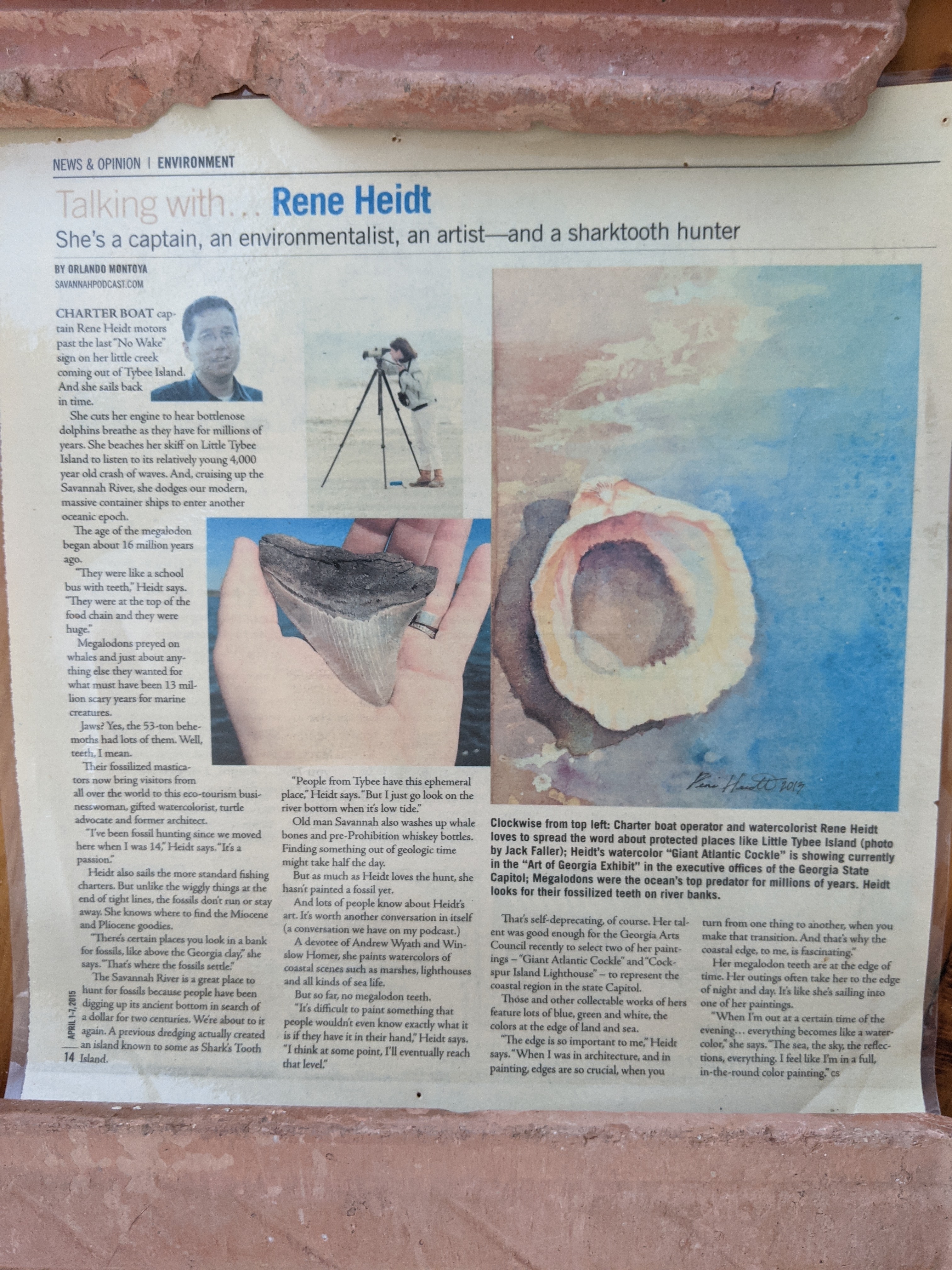 Article by Orlando Montoya
CHARTER BOAT captain Rene Heidt motors past the last "No Wake" sign on her little creek coming out of Tybee Island. And she sails back in time.
She cuts her engine to hear bottlenose dolphins breathe as they have for millions of years. She beaches her skiff on Little Tybee Island to listen to its relatively young 4,000 year old crash of waves. And, cruising up the Savannah River, she dodges our modern, massive container ships to enter another oceanic epoch.
The age of the megalodon began about 16 million years ago.
"They were like a school bus with teeth," Heidt says. "They were at the top of the food chain and they were huge."
Megalodons preyed on whales and just about anything else they wanted for what must have been 13 million scary years for marine creatures.
Jaws? Yes, the 53-ton behemoths had lots of them. Well, teeth, I mean.
Their fossilized masticators now bring visitors from all over the world to this eco-tourism businesswoman, gifted watercolorist, turtle advocate and former architect.
"I've been fossil hunting since we moved here when I was 14," Heidt says. "It's a passion."
Heidt also sails the more standard fishing charters. But unlike the wiggly things at the end of tight lines, the fossils don't run or stay away. She knows where to find the Miocene and Pliocene goodies.
"There's certain places you look in a bank for fossils, like above the Georgia clay," she says. "That's where the fossils settle."
The Savannah River is a great place to hunt for fossils because people have been digging up its ancient bottom in search of a dollar for two centuries. We're about to it again. A previous dredging actually created an island known to some as Shark's Tooth Island.
"People from Tybee have this ephemeral place," Heidt says. "But I just go look on the river bottom when it's low tide."
Old man Savannah also washes up whale bones and pre-Prohibition whiskey bottles. Finding something out of geologic time might take half the day.
But as much as Heidt loves the hunt, she hasn't painted a fossil yet.
And lots of people know about Heidt's art. It's worth another conversation in itself (a conversation we have on my podcast.)
A devotee of Andrew Wyath and Winslow Homer, she paints watercolors of coastal scenes such as marshes, lighthouses and all kinds of sea life.
But so far, no megalodon teeth.
"It's difficult to paint something that people wouldn't even know exactly what it is if they have it in their hand," Heidt says. "I think at some point, I'll eventually reach that level."
That's self-deprecating, of course. Her talent was good enough for the Georgia Arts Council recently to select two of her paintings – "Giant Atlantic Cockle" and "Cockspur Island Lighthouse" – to represent the coastal region in the state Capitol.
Those and other collectable works of hers feature lots of blue, green and white, the colors at the edge of land and sea.
"The edge is so important to me," Heidt says. "When I was in architecture, and in painting, edges are so crucial, when you turn from one thing to another, when you make that transition. And that's why the coastal edge, to me, is fascinating."
Her megalodon teeth are at the edge of time. Her outings often take her to the edge of night and day. It's like she's sailing into one of her paintings.
"When I'm out at a certain time of the evening… everything becomes like a watercolor," she says. "The sea, the sky, the reflections, everything. I feel like I'm in a full, in-the-round color painting."
see: www.connectsavannah.com/savannah/talking-with-rene-heidt
https://sundialcharters.com/wp-content/uploads/2021/10/IMG_20211006_114407.jpg
4032
3024
René Heidt
https://sundialcharters.com/wp-content/uploads/2018/03/sundial-charters-logo.jpg
René Heidt
2021-10-01 15:53:12
2021-10-06 15:55:55
Talking with... Rene Heidt - She's a captain, an environmentalist, an artist - and a sharktooth hunter